3 Ways Small Business Owners Can Embrace Ontario's Minimum Wage Increase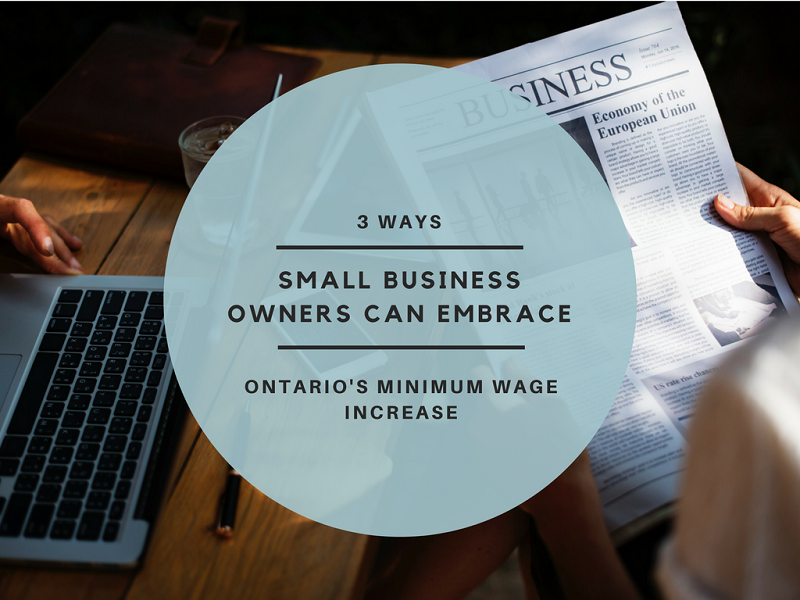 Changes to Ontario's workplace laws have been the source of fury for many small business owners recently. As of January 1st, the province's minimum wage increased to $14 per hour—up from $11.60—with an additional dollar increase due in 2019. A lot of small business owners seem to view this increase as a hit to their bottom line, with many grappling with the idea of raising prices, or cutting staff in order to balance the books. Here's the reality, folks—whether it be a rise in labour costs, or a rise in interest rates, your business will likely be affected. The important thing to remember is that there are always opportunities to get the value you've worked so hard for back.
Here are three ways small business owners can embrace the minimum wage increase:
Account for rising labour costs in your long-term business planning
If the recent business headlines are any indication, a lot of small business owners have contemplated cutting back on benefits, hours, or even resorting to layoffs to make up for the changes to minimum wage. But let's keep in mind that, in adjusted dollars, the national average minimum wage isn't much higher than in the 1970s.
By accounting for rising labour costs in your long-term financial planning, you'll have the opportunity to make small adjustments to your operations year-over-year—so, when a bump in minimum wage comes along, it won't feel as big. If a restaurant business were to increase each menu item by 25 cents, they could cover the additional cost of labour without making a drastic change that would turn customers away.
Focus on boosting productivity
One of the great things about change is that it forces us to take a good look at whether what we are doing is working to our advantage. Instead of looking at the minimum wage increase as an added cost, why not look at how your team can better manage their time to be more productive. Maybe that means adding new performance indicators for sales, or starting a new recognition program to motivate your employees.
Prioritize your greatest strength: Loyal employees
Minimum wage is the cost of effort—your employees deserve to be compensated for their hard work. Try to find ways of cutting cost without jeopardizing employee incentives, like benefit programs or working hours. Think of it this way: the less staff turnover you have in your business means less money spent on hiring and training. If you treat your staff members right, they will be willing to work even harder for your business, which is priceless.
Do you still have concerns about the minimum wage increase affecting the value of your business? The Blue Sky team is here to help you put a plan into place to grow the value of your business. Call us today to get started: (289) 466-5210.